Site Overview
Welcome to the Isle Royale Info site. This site is dedicated to providing information about Isle Royale National Park located in Lake Superior. It is meant to be a central point of reference for anyone wanting to go there, or just know more about Isle Royale. First of all, I am neither employed nor affiliated with Isle Royale National park or any official or commercial organization related to the park. For official information on the park, go to the National Park Service website at: www.nps.gov/isro. The second first of all, is that all of the information presented is to the best of my knowledge and I cannot take responsibility for what you or anyone else does with it. I am in no way responsible for personal injury, damage to property, or violation of the law in connection with use of this document. I have enough to do just taking care of myself. That being said, I hope you find this site useful.

The island of Isle Royale is located in Lake Superior, southeast of Thunder Bay, Ontario. It is 45 miles long and 9 miles wide at its widest point. The park encompasses a total area of 850 square miles, including submerged lands, which extend 4.5 miles out into Lake Superior. It is approximately 22 miles from the Canadian shore and 55 miles from Michigan's Keweenaw Peninsula.

Isle Royale National Park was authorized by Congress in 1931 "to conserve a prime example of North Woods Wilderness". The park was designated as part of the National Wilderness Preservation System in 1976, under the Wilderness Act, and remains today, as an example of primitive America. Ninety-Nine percent of the park's land area is designated as wilderness. In 1981, Isle Royale was designated as an International Biosphere Reserve, by the United Nations, giving it global scientific and educational significance. Accessible only by boat or float plane, Isle Royale is relatively untouched by direct outside influences and serves as a living laboratory.

The park is open to the public from approximately April 15, through the month of October. Boat and Seaplane services run from early May, through early October. There is over 165 miles of hiking trails on the island, ranging from easy to difficult. Besides Lake Superior, there are many inland lakes with relatively easy portages, if going by Canoe or Kayak. It is the least visited National Park, but has the most repeat visitors. More people go to Yellowstone National Park in a day, than go to Isle Royale in a year. Due to its location, it is not an easy place to go to and takes quite a bit of planning. Once on the island, there is very little available, so you must bring everything you need with you.

I have been to the island of Isle Royale over twenty times now. It has made an indelible mark on my life and consciousness. Its wild desolate beauty leaves a feeling you can never forget. To be in a place, miles from civilization, without the existence of a phone, with only what you are carrying to survive with, is something that can only be experienced. The variety of plants and terrain that can be seen by merely heading in a different direction, or simply walking on, is quite unique. From the bare weathered rocky North shore to swamplands, high ridges, to numerous lakes and islands, the island has it all. The animals present on the island, are moose,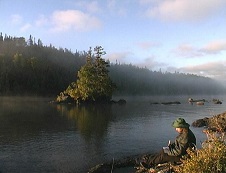 beaver, snowshoe hares, squirrels, fox, wolves, ducks, loons and various bird species. You are almost guaranteed to see moose and fox. If you are lucky, you might hear the wolves, and if very lucky, you might even see one (they will see you).

This site is based around my book, "Isle Royale Info - A Comprehensive Guide to Isle Royale National Park", which was initially released in January, 2011. The book itself is available in several configurations from a basic printable PDF file to a PDF file with links to full color pictures, charts and maps. The pictures in the left hand corner are a random slide show of small versions of some of the pictures from the book. As of the third release in April, 2013, the book has been updated to include a user interface called "Isle Royale Info - Base Camp". This interface provides a way of viewing and updating chapters and pictures and a few other things. There is also a neat little utility called the "Isle Royale Trip Planner" to assist in planning routes and destinations.

Planning a trip to the island can seem daunting when you first look into it. I have created a quick synopsis of the possible ways to get to the island and things you need to do in planning a trip. You can read it selecting "Planning A Trip" from the menu.

There is a full description of the book and the individual sections along with some samples of some of the book available by selecting "Book Description" from the menu.

There is a full description of the programs "Isle Royale - Base Camp" and "Isle Royale Trip Planner" along with some screen captures available by selecting "Program Descriptions" from the menu.

You can download a free demonstration version of the book and program by selecting "Download Demo Program" from the menu. This includes samples of all of the sections of the book and both programs with limited functionality.

The Isle Royale Trip Packages are complete packages for common routes on the island. They were created in response to the most common question I receive, "What route do I choose?". These are meant to aid in determining a route, then getting full details of that route once decided. Each package provides details on the route including maps, pictures, trail descriptions, campground descriptions and details on some points of interest. For a complete description of the packages, select "Trip Packages" from the menu.
You can purchase the book and program in several forms and other items related to Isle Royale. This includes a laminated trail chart, a couple of things for backpacking, a movie, a few journals of trips to the island and a couple of other items. To see a full list, select "Isle Royale Info Store" from the menu.

For the latest information on book and programs, select "Contact & Support" from the menu. That is also where you will find an Email form to report problems, ask questions or make suggestions related to the book, programs or website. This is not intended to ask general questions related to the park. Explore the website and you will find many answers to most of your questions.

For some links to key sites related to the park, select "Quick Links" from the menu. This is also where you can go to the "official" National Park Service website for the park and websites for making boat reservations.

---
Best viewed at 1024 x 768 or higher
Tested in Internet Explorer 7-9. If you are using IE 10 and the website appears to display incorrectly, select the "compatibility mode" next to the address bar. This usually corrects the problems.